Roles and responsibilities of authorised officers in food allergen management
Food safety standards are found in the national Food Standards Code (the Code). These standards provide the requirements for producing safe and suitable food and include certain food information requirements, such as product labelling. Across Australia both state and local governments share the responsibility to apply the Code to all food businesses.
State jurisdictions tend to regulate manufacturers, importers, distributors and primary producers. Retail food businesses that sell directly to the public, such as cafes, restaurants, supermarkets and home-based businesses, will usually fall under the remit of a local government authority, such as a local council.
This arrangement can vary across Australia according to local arrangements.
Food regulators use a wide range of tools, including education and advocacy, to achieve good public understanding of the law and compliance. The Australia and New Zealand Food Regulation Compliance, Monitoring and Enforcement Strategy outlines the role of authorised officers in:
Generating compliance
Monitoring compliance
Responding to non-compliance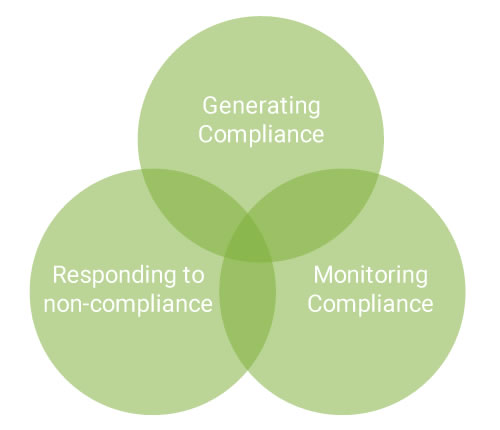 Food regulators, including authorised officers, are undertaking activities in support of all three areas on a continual basis and in an interconnected manner. Authorised officers may be working with food businesses to raise awareness of allergen management, while at any point in time, action can be taken to respond to non-compliance.
Retail inspections will typically be conducted by authorised officers who have a range of powers at their disposal to ensure that the food being prepared and sold is safe, suitable and adequately labelled, wherever required. Examples of these powers include the right to enter a business, question the owner and staff to obtain further information, take samples for testing, examine records, labelling, equipment and food handling practices.
Authorised officers have a range of enforcement tools available for use where non-compliances are observed. In responding to non-compliance, a risk-based, graduated and proportionate approach is taken, and a number of factors are considered including harm, history, intent, approach of the food business and consistency in enforcement approach. Section 7.3 and Appendix 4 of the compliance, monitoring and enforcement strategy provides an explanation of the range of tools available to authorised officers. Typically, these include formal advice or warning letters, improvement notices, penalty notices, seizure of evidence and ultimately prosecution for the most serious offences. Note that these tools and their application can vary across states and territories.
Packaged foods
There is an ever-increasing number of food recalls due to undeclared allergens in packaged food. Over the period from 2011 to 2020 they resulted in 321 food recalls across Australia which was by far the most common reason for any recall event. Further details on food recalls, including those for undeclared allergens, can be found on the FSANZ website.
The Code provides for the mandatory declaration of certain substances in packaged food to assist the consumer with food allergy. If the food contains these substances as either an ingredient, a food additive or processing aid, then the labelling must declare the substance. This specific detail is found in Standard 1.2.3 of the Code.
The responsibility to ensure the substances are adequately labelled on packaged foods rests with the supplier of the food. Typically, this will be the local manufacturer or perhaps the importer of the food into Australia.
Incidents and complaints may bring particular packaged foods to the authorised officer's attention in which case the label can be assessed for labelling compliance. If there is an error in this aspect of the product labelling and the allergenic substance is undeclared, it is the responsibility of the importer, manufacturer and/or distributor to ensure the food is removed from sale. This must first be initiated in conjunction with Food Standards Australia New Zealand (FSANZ) and the state or territory food agency. Authorised officers in local government can provide assistance at a local level by ensuring that affected products are no longer available for sale.
It is imperative that food businesses have reputable food suppliers to ensure that they are in receipt of correctly labelled food as well as having a degree of confidence of being notified by that supplier in the case of a food recall.
Food allergen complaints relating to packaged food
In cases where there is an incident regarding an undeclared allergen in a packaged food, in the first instance this complaint will likely be received by the local council where the food was sold. The authorised officer will conduct an initial investigation with the local retailer that sold the food to confirm the specific food labelling, the sale and the supplier and refer the complaint with those details to the state authority in whose jurisdiction the food was manufactured and labelled.
The Implementation Subcommittee for Food Regulation (ISFR) Undeclared allergen incident and investigation protocol can assist authorised officers.
Unpackaged foods
Provision of food allergen information
In certain circumstances food products may not be required to bear any labelling, such as unpackaged foods on display or food prepared for immediate consumption.
However, food businesses still have a duty to provide information about the allergens declarable under The Code (Standard 1.2.3) in a food. This can be achieved by providing written information in connection with the display of the food or simply providing the information upon request. For example, if a customer in a cafe asks if an unpackaged cake contains egg, the food business must be able to correctly advise the customer. This detail is found in Standard 1.2.1 of the Code. This information must also be provided using the required names of the allergens, as detailed in subsection 1.2.3-6(2) of Standard 1.2.3.
The authorised officer can assess the extent to which the food business complies with this aspect of the Code though questioning. For example, an authorised officer could ask if the unpackaged lasagne made on site and displayed in the delicatessen, which has no labelling, contains any food allergens and to have staff demonstrate process steps and produce documentation to verify the answers provided.
This approach will allow the authorised officer to assess the food business's ability to apply the requirements of the Code.
Where the business is unable to provide the food allergen information if requested, an authorised officer can take enforcement action with the food business.
The Australia and New Zealand Food Regulation Compliance, Monitoring and Enforcement Strategy provides guidance for food regulators, including guiding principles and appendices to outline actions that may be taken:
Food service
The core aspects of an authorised officer's routine inspection of food businesses is to assess compliance with the food safety standards. Traditionally this approach did not always include an assessment of food allergen management through all food handling or preparation steps.
The ISFR Principles for the inspection of food businesses outlines a risk-based approach for authorised officers to take in conducting an inspection of a food business to assess compliance with the Code and Food Act provisions. The primary responsibility for identifying food hazards and controlling risks rests with food businesses. An inspection of a food business is undertaken in order to assess and monitor compliance and identify any corrective action to minimise risk to public health and safety. A risk-based approach should underpin the food safety assessment at all stages of the inspection - food receipt, food storage, food processing, food display, food transport and cleaning and sanitising. A good starting point for the assessment is for the authorised officer to check any menus to identify certain foods or meals that would be of risk to the allergic consumer. Examples of such items might be those carrying claims, such as 'gluten free', 'suitable for Coeliacs', or 'nut free'.
During an inspection, if an authorised officer identifies poor food handling practices (from food receipt through to food service) that fails to prevent cross contact between allergens and other food products or surfaces, the authorised officer can consider actions to facilitate compliance (e.g. education and advice), or respond to non-compliance in accordance with the Compliance, Monitoring and Enforcement Strategy.
For example, an authorised officer may determine through questioning and/or observation any of the following issues:
Food handlers do not have the skills and knowledge to manage allergens in the business
Waiting staff are not aware of their duty to declare allergens to consumers if requested
Chefs contaminate food in the kitchen with allergens by adopting poor process control
In this scenario, the authorised officer should bring the matter to the proprietor's attention and refer to the Compliance, Monitoring and Enforcement Strategy and apply a risk-based approach to determine the appropriate action.
Food of the nature and substance demanded
Each state and territory has a provision in their respective Food Acts that requires food to be of the nature and substance demanded by the purchaser (i.e. the customer gets what the customer ordered).
Non-compliance with this requirement occurs if the customer was specifically told a food did not contain a particular ingredient or allergenic substance, but it did. For example, where a customer asks for no peanuts in their meal to which the restaurant confirms but supplies a peanut-containing meal regardless (either directly or through cross-contamination during preparation), then a potential breach exists.
In the first instance all food allergen complaints in the food service industry should be undertaken by the local authorised officer at the implicated food business. Once the complaint or incident is received by the agency, it must be acted upon quickly. It will be imperative to learn from the consumer what allergies they/their dependent have, what they have eaten, the environment they were in at the time, the nature of any reaction or illness, and what communication existed between the consumer/carer and the food business.
The authorised officer should conduct an investigation as per ISFR Undeclared Allergen Incident and Investigation Protocol. State authorities can provide assistance where required.
Where there is sufficient evidence to uphold the complaint of food being sold that did not comply with the customers demand then the authorised officer can offer advice and/or take enforcement action against the food business.
Content updated November 2021