All about Allergens for Hospitals: Kitchen Staff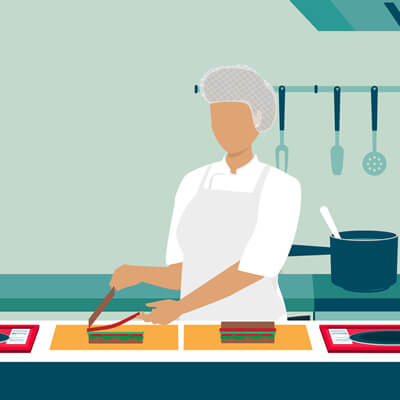 About this course
This course is for kitchen cooks and chefs, food preparation staff and operational food service staff. It covers how to prepare meals for patients with food allergy, paying attention to food storage, cleaning, meal plating and meal delivery.
Who this course is for
Hospital food service staff
Cooks and chefs
Dietetic assistants and menu monitors (working in kitchens)
Kitchen hands
Technical staff
Front line operational food service staff (such as staff plating or serving meals)
Food service assistants (FSAs)
Catering staff
Catering assistants
Course modules and learning outcomes
There are four units in this All about Allergens course. Learning outcomes are assessed with short end of unit quizzes and a longer final assessment.
Unit 1: Food allergy overview
Understand food allergy and the consequences of serving the wrong food to a patient with food allergy.
Know what an allergic reaction might look like.
Know the difference between a food allergy, a food intolerance and coeliac disease.
Be able to list the common food allergens in Australia.
Unit 2: Hospital duty of care
Understand what the law states about providing food to patients with food allergy and providing accurate information about food allergen content of menu items.
Understand the roles and responsibilities of the patient with food allergy (or their guardian), nursing and ward support staff, dietetics and the food service department.
Describe a simple food allergy management process for a hospital.
Understand how to report incidents related to food allergy.
Unit 3: Understanding food labels for food allergy
Understand food labelling laws in Australia for packaged and unpackaged foods.
Demonstrate knowledge of reading food labels and identifying food allergens on a label.
Be able to identify food allergens in products, recipes, packaged foods, ingredient lists, meal components, condiments and garnishes.
Understand Precautionary Allergen Labelling statements and what these mean for patients with food allergy.
Unit 4: Practical management of food allergens in the kitchen
Know how to prepare foods suitable for patients with food allergy.
Identify and manage areas of possible cross contamination in food service.
Demonstrate an understanding of simple strategies to use to know exactly what is in the food served by your kitchen.
Identify and implement strategies to ensure that the right meal or fluid is given to the right patient.
Course length
This course takes approximately 1 hour to complete.
Your progress is saved along the way, so you can stop and come back to the course at any time. It is recommended you complete the course within 2 weeks.
How often to undertake this course
You should undertake this training at least every 2 years.
Latest version
All about Allergens for Hospitals: Kitchen staff (released 4 March 2023)
To start this course Register or enrol
Older versions
All about Allergens for Hospitals: Kitchen staff (released 20 September 2020 | superseded 4 March 2023)
Last modified: Saturday, 4 March 2023, 8:56 AM