The following resources and websites are designed to help you to improve the management of food allergens in your food business.

All about Allergens booklet
This free booklet has been designed to support the All about Allergens online training.
Simply download here and print.
Matrix template
Download and print a sample "Easy eats" allergen matrix and a food allergen matrix template that your business can use.
Sample PDF | Template (Word document)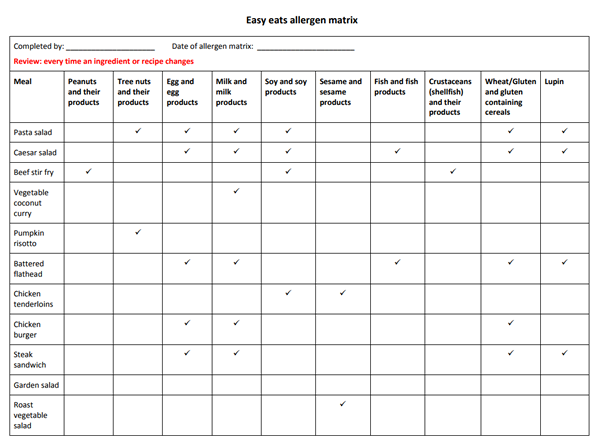 Food allergen cards
The food allergen cards will help you to identify common names for each of the most common food allergens as well as the foods which are most likely to contain the food allergen.
https://allergyfacts.org.au/resources/allergen-cards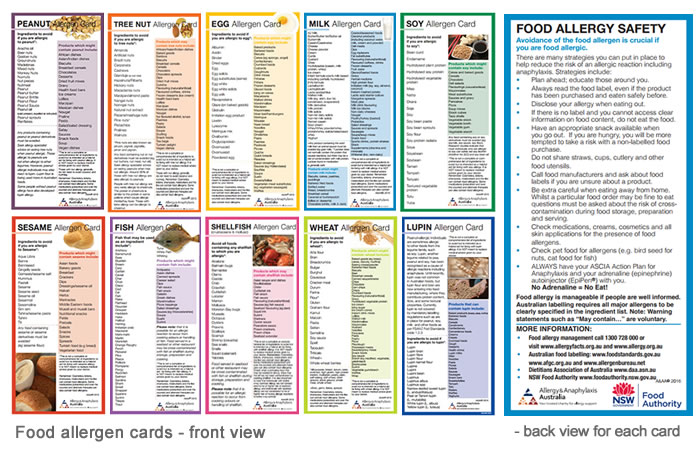 Food Standards Code
Information about the Food Standards Code and your responsibilities as a food service provide is available from the Food Standards Australia and New Zealand (FSANZ) website.
www.foodstandards.gov.au/code/Pages/default.aspx
Food enforcement contacts in each region
In Australia, compliance with the Code for all foods is monitored by authorities in the states and territories. In New Zealand, it is monitored by the Ministry for Primary Industries and public health units.
The contact details for enforcement agencies in Australia and New Zealand are available from the following link: www.foodstandards.gov.au/about/foodenforcementcontacts/Pages/default.aspx
General information about food allergy and anaphylaxis
ASCIA Action Plans, videos on how to give the EpiPen and other food allergy and anaphylaxis resources.
Allergy & Anaphylaxis Australia: www.allergyfacts.org.au/
ASCIA: www.allergy.org.au/
Information about the VITAL (Voluntary Incidental Trace Allergen Labelling) Program
Allergen Bureau: www.allergenbureau.net/
Information hub for food service providers
Allergen Collaboration: www.foodstandards.gov.au/consumer/foodallergies/collaboration/Pages/default.aspx
Food industry guide to allergen labelling
Australian Food & Grocery Council (AFGC): www.afgc.org.au/
Last modified: Thursday, 13 July 2017, 3:41 PM